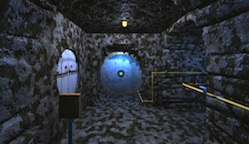 Dear Friend, when you have read this letter, you will have presumably nearly finished exploring RHEM 2. Unfortunately, I'm no longer here. Otherwise, I would have personally met you here in this room, which I had set up during my recent stay in this part of RHEM. ... Yours, Meneandes
RHEM II SE - The Cave Special Edition expands the huge world of the original RHEM 2 by a new unseen area with many new puzzles and challenges. The additional goal is to find one quarter of a medaillion that you may need in the exploration of the upcoming RHEM V.

RHEM II SE - The Cave Special Edition is an intricate pure-puzzle first person adventure game. The player explores a hidden city far beneath the earths surface. RHEM II SE features non-linear gameplay non-violent story and mind-bending puzzles. Having discovered entry to a hidden underground city you will venture ever deeper as you explore a maze of clandestine caves, secret rooms and intricate walkways tunnels and water systems.